Tutor coordinators' greeting
Greetings! We are Kristian and Ville, and together we are the assigned tutor coordinators for 2023. Kristian is the coordinator for study programs with Finnish teaching, and Ville is responsible for new students in international programs.
First of all, we would like to congratulate you on getting admitted to the University of Vaasa! This truly is a great place to live and study – in other words, an excellent place for you to start a unique period in your life. Vaasa is a great place with versatile opportunities and potential for unforgettable moments.
On this page, we have gathered essential things to note before you arrive in Vaasa. When autumn comes, it is not uncommon to get dazed or confused by the sheer volume of information. No need to be worried, though, because the Tutor Project '23 is here to make your landing on the "Pearl of West Coast" as soft as possible. 
The tutors are here to help you, and we encourage you to ask them any questions regarding your studies or your new home city. We also recommend you keep a close eye on your e-mail inboxes as your tutor will contact you via the said method in early August; keep an eye on your spam mailbox as well. 
In the Tutor Project '23 there are 83 incredible tutors and 15 tutor instructors helping us give you the best tutoring experience possible. You are more than welcome to ask any one of us any questions you might have. You can spot us, the tutor coordinators, and the tutor instructors from the pink hoodies and big smiles on our faces. You can also reach us before and during the tutoring period via e-mail (Ville at tutorcoordinator@vyy.fi and Kristian at tutorkoordinaattori@vyy.fi).
The freshers' (yes, master's students can be freshers too!) Autumn is an exciting time but more importantly a unique and truly memorable experience. Student life in Vaasa has much to give, so we strongly recommend you make the most of it right from the get-go. There are plenty of events and activities for you to participate in, so we suggest you stay in Vaasa for the first few weeks. The most important thing is to come and participate open-mindedly in the various activities and to build your network!
Once more, on behalf of the entire Tutor Project, we want to congratulate you on your admission and warmly wish you welcome as a part of the University of Vaasa and as a new member of The Student Union of the University of Vaasa (VYY)! Let's meet in autumn and have a great time together!
Best regards,
Ville Niemimaa
International Tutor Coordinator
Kristian Hassi
Tutor Coordinator 
See what's to come and watch the aftermovie of autumn 2019 below 
Schedule of freshers autumn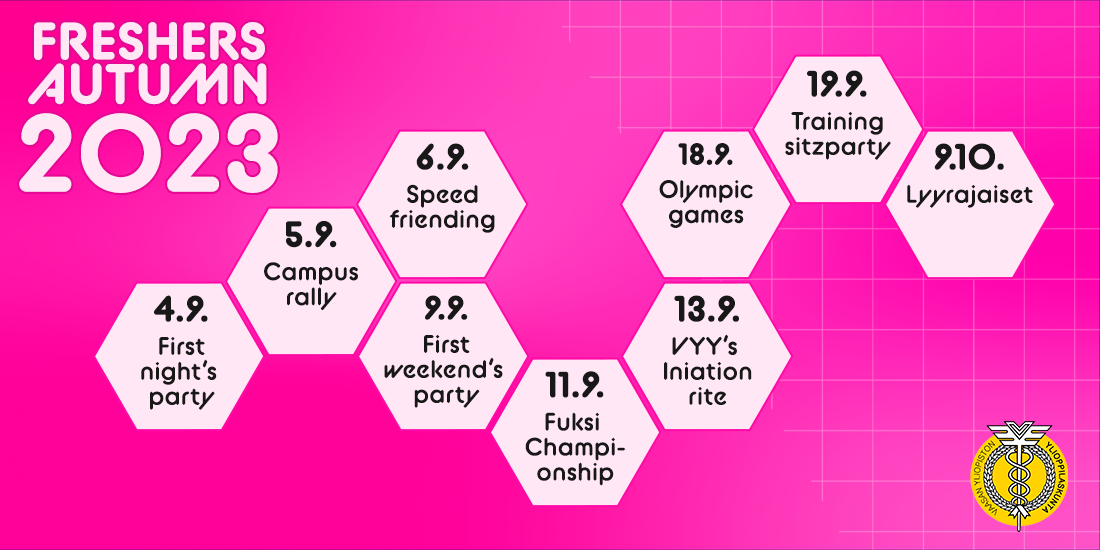 5.9. Kampusralli / Campus Rally
https://www.facebook.com/events/643123134257609/
6.9. Speed Friending
https://www.facebook.com/events/1352073805520196/
9.9. Ekan viikonlopun bileet / First weekend's party
https://www.facebook.com/events/355999633417952
11.9. Fuksichämppärit
https://www.facebook.com/events/6400498196666254/
13.9. VYY:n kastajaiset / VYY's Initiation Rite 2023
https://www.facebook.com/events/2953755898089012/
18.9. Olympialaiset / Olympic Games
https://www.facebook.com/events/2019016391781552/
19.9. Harkkasitsit / Training Sitzparty
https://www.facebook.com/events/844216727054970/
9.10. Lyyrajaiset

The first days and weeks at the University are usually an absolute avalanche of events. On the first day, you'll meet your tutor and attend the introduction to the University, studies, and academic life. Your tutor is a volunteer amongst the students who wish to contribute to our work. The University of Vaasa is a close-knit community, and help is always available on request.
VYY also organizes student parties where all new students of the University of Vaasa are welcome. The most legendary of them are the first night and first weekend parties, which are not to be missed! At the end of the tutorship period, an initiation ceremony is arranged, where new students will be formally accepted as members of the academic community.
Take care of these immediately:
Enroll to the University and pay the Student Union fee
Print the receipt of the payment or take a screenshot of the receipt and keep it with you until you have received your student card or have downloaded the Pivo App
Download Pivo from Google Play or AppStore for a free student card
You can also order and buy plastic student card. Before you order a plastic card, please read the instructions carefully. You can find the ordering instructions and the link to the ordering portal from our Membership-page.
Find an apartment at VOAS
Notify the post office and the local register office about your move
Pay the healthcare fee for students in higher education to Kela by the 30th of September. 
If you need to, remember to make an electricity contract to your apartment. You can make a electricity contract with, for example, our affiliate partner Vaasan Sähkö
Add VYY's event calendar to your digital calendar, so you can view all the events different student organizations are organizing
First things to do at the beginning of the semester:
In case you've ordered a plastic student card, make sure you get the academic year sticker to it. You can get the sticker from the Student Union service office. In case you decide to use the Pivo application, no sticker is needed
Ask questions from your tutor or from the Student Union in case there's anything you'd like to know
Sign in to the FSHS Self-service. It is an online service through which students can communicate with the FSHS
Get familiar with the Student Union and all other organizations and clubs on campus
The Student Union of the University of Vaasa (or VYY) is there for all of the students at the University of Vaasa. 
Watch Welcome to Vaasa -video (subtitles are available in English)!
All VYY members are entitled to the local and national services and benefits offered by the Student Union. See all the membership benefits and services on our website. 
We warmly welcome all of our members to participate in our activities. 
If you have any questions, our board and staff members are happy to help you. You can visit us at our service office, located on campus at the Domus Bothnica building. Be sure to also follow us on social media! We are on Facebook, Twitter and Instagram for example. 
There are many organizations within VYY, like subject associations for the fields taught at the University of Vaasa, student clubs, sports clubs, clubs for international students, and cultural and political groups. The subject associations in the University of Vaasa are CoMedia ry, Giga ry, Hallinnoijat ry, Tutti ry and Warrantti ry.
Welcome to study economics at the University of Vaasa! 
At the University of Vaasa, you can study finance, international business, and strategic business development. Warrantti ry is the subject association for economics students at the University of Vaasa. 
Warrantti ry is the biggest subject association on campus with over 2400 members. Their most important job is to advocate for economics students' study-related affairs and help you with any study-related issues you might come across. They also organize different activities and events where you can meet other students. 
 
More about business studies from the University of Vaasa's website
Business students' subject association Warrantti ry's website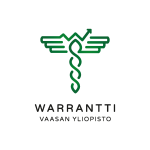 At the University of Vaasa's technology master's programs, you can specialize in industrial management, industrial systems analytics, and smart energy. The field of technology is ever-growing and future experts are wanted in the working life.
Tutti ry is the subject association at the University of Vaasa for students of technology. They advocate for technology students' top-quality education and help with any study-related issues. Subject associations also organize different events and activities for their members and students on campus.
 
More about technology from the University of Vaasa's website
Technology students' subject association Tutti ry's website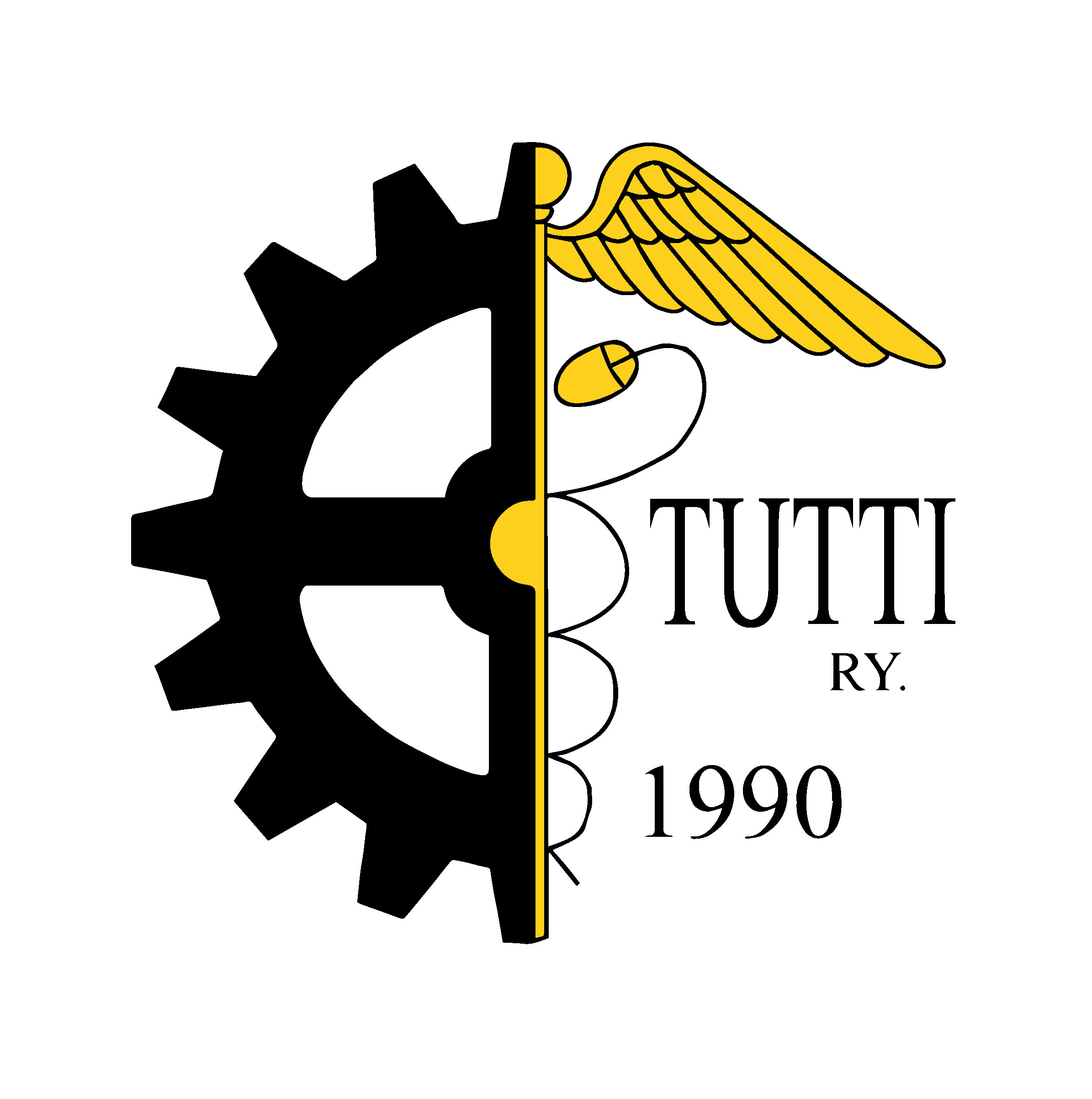 International tutors are here to help you with anything you might need help with during your first few weeks in Finland and in Vaasa. Get to know our international tutors below! 

Jeremie Akili, 4th year, Technology. "NO Neighbors! (You will find out what it means)"
Ali El Rifai, 2nd year, Technology. "Stay Positive!"
Kristiina Husu, 3rd year, Economics. "Eyes closed and trust the process"
Joanna Jalonen, 2nd year, Economics. ''No one saw or will remember anything anyway'' 
Sandaruu Jayawardhana, 2nd year, Economics. "No Guts, No Story"
Emilia Järvenpää, 2nd year, Economics. "Happy girls are the prettiest"

Erik Koivunen, 2nd year, Industrial Management and Information Systems. "It is what it is"
Walter Lindqvist, 3rd year, Economics. "Not by reason, not by skill, not by hard work, not by pain, but by luck!" 
Krishna Manivachagan, 2nd year, Industrial Management and Information Systems. "Instead of being a head of a pig at least be tail of a lion."
Ada Palovaara, 2nd year, Economics. "What you do not know can't hurt you"
Iida-Lotta Rautio, 2nd year, Industrial Management and Information Systems. "The more you snack, the better the party"
Veera Riiheläinen, 2nd year, Economics. "Embarrassment is only a state of mind"

Susanna Vesterinen, 2nd year, Economics. "Life is a Highway"
Tutorproject is organized by the Student Union of the University of Vaasa, and the aim is to provide the smoothest possible transition for freshers to integrate as members of the university community and to create social relations that promote students' well-being.
The tutor coordinators are responsible for the tutor project. In 2023, Kristian Hassi is the main coordinator for study programs with Finnish teaching and Ville Niemimaa will be responsible for the tutoring of international programs. You can find the tutor coordinators' contact information on our website.
The tutorproject of 2023 includes 15 tutor instructors and 84 tutors. Tutor instructors help the coordinators and support the tutor during tutorproject. Tutors are responsible for tutoring new students, guiding them to university life, and taking care of the new students' integration into the student community.
The tutorproject involves anti-bullying tutors ("hyvis-tutori in Finnish), whose task is to ensure that tutorproject's events have safer space.  You can approach all tutors with a low threshold with any questions or concerns you might have, but the anti-bullying tutors have been trained to help and listen anyone.
There are anti-bullying tutors in each field of education, and below you will find the 2023 anti-bullying tutors listed. You can spot the anti-bullying tutors at the events from their shirts that have the text "HYVIS" on them.
| | |
| --- | --- |
| Administrative Sciences | Emma Haapala |
| Economics | Matias Kivelä and Eeva Yrttiranta |
| Technology | Hilja Rautpalo |
| Industrial Management and Information Systems | Meri-Mari Haapalainen |
| Communication | Emmi Natri |
| International tutoring | Iida-Lotta Rautio |
Getting to know other freshers
The first few weeks are full of events for networking and getting to know other freshmen. However, before the studies begin, you should join a Facebook group called: Vaasan yliopiston fuksit 2023 / Freshers of Vaasa university 2023.
How to find information?
All the freshmen events will be published on Facebook, and on there you can find the time, place, and other information about the event. You will also get more information from your tutor and following us on social media, like Facebook, Instagram (@ylioppilaskunta), or Twitter (@VYYtweets)
 
Student union activities
There are many ways to participate in the activities of the Student Union. You can get involved in various projects, participate in advocacy as an administration student representative, or apply to the student union board, which is elected in November-December. Every two years, there are also the Representative Council Elections, in which each member of the Student Union can run in and has the right to vote. The next Representative Council Elections are in the autumn of 2023!
More information on the Board, the Representative Council, and projects can be found on the Come join us -page. The Secretary General and the Board of the Student Union will also be happy to answer any questions you might have. 
Club and association activities on campus
There are several clubs and associations on the campus of the University of Vaasa. Different clubs and associations focus on advocacy, event organization, or sports, for example. Attend events and activities or set up your own! 
For more information on organizational activities in general, contact the Student Union's board member responsible for organizational affairs. 
University sports services
The diverse range of sports services organized by the University of Vaasa includes e.g. gym, pilates, and other group exercises, cheerleading, and various ball sports. 
More information on sports services on the university's website.
Free time in the city of Vaasa
In Vaasa you will find culture, outdoor activities, restaurants, and events, there is something for everyone. Feel free to ask your tutor about the different possibilities and find things you like to do in addition to student life!
Get to know Vaasa's culture selection 
Get to know what activities and nature sites Vaasa have to offer 
Greeting to new students from organizations within VYY

Frequently asked questions
STUDENT CARD 
What is Pivo?
The Student Union of the University of Vaasa (VYY) begun to use the Pivo student card in the spring of 2019. The Pivo App can be downloaded free of charge by all VYY members to either iOS or Android phones from the app store. Once the semester registration has been completed and the membership fee has been paid, the app will automatically retrieve your attendance information, after which the card and card benefits will be immediately available to you. Read more about the Pivo student card on the Pivo website.
Does Pivo electronic student card cost something?
Pivo's electronic student card does not cost anything and it is free and available for all customers of any Finnish bank.
How do I start to use Pivo's electronic student card? 
Pivo's electronic student card is easy to use and here's how you can get the student card: 
Download Pivo app to your phone from your application store
Register with your bank user identifiers 
Click on Student Card on the main view 
Follow the instructions to create your digital student card. NB! You can change the picture on the student card twice a year. 
I am a fresher, when does my electronic student card start to work? 
You can download the Pivo application to your phone as soon as you want, but the student card feature will only start to work after the semester starts in August-September. So even if you have registered and paid the Student Union membership earlier, the student card feature will start to work once the semester starts. 
What can I get with Pivo? 
With Pivo, you get all national student benefits, such as VR's and Matkahuolto's student discounts, FSHS services, and Kela's meal support. In addition, local student discounts in Vaasa are also visible on the app, so you can take advantage of all the benefits that come with membership more easily. 
How can I access the international ISIC student card? 
Visit ISIC's website and order their digital ISIC card for 10 €.
Can I get a physical student card? 
Yes, you can, the plastic student card will be ordered and paid for through the electronic ordering system. The card is to be picked up from the Student Union's service office and a new academic year sticker must be picked up each year to prove the card's validity.
I forgot to print my Student Union membership fee payment, what should I do? 
An easy way to prove your membership right at the beginning of your studies is a screenshot of the paid membership fee. Log in to your online banking, look in the account information for the spot where you made your membership fee, and take a screenshot of that payment transaction. Thus, you will be able to prove that you are a full member of the Student Union in the early days on campus.
HOW DO I FIND DIFFERENT PLACES? 
How do I navigate the campus? 
Check the campus map on the University of Vaasa website and check the locations of the lecture halls on the Vaasa Open University website.
What is Leipis and where it is? 
The Leipis sauna and meeting room is managed by the Student Union and is located in the center of Vaasa. The Student Union rents the facility cheaply to its members and organizations throughout the year. Leipis can be booked via the booking calendar. In Leipis you can host evening parties, sauna evenings, meetings, and parties for about 30 people. The affordable rent price is due to the fact that the tenants clean the facility themselves. When everyone takes care of the facilities together and is left in good condition, it will also serve future generations of students.
What and where is the Domus Bothnica building?
Ylioppilastalo Domus Bothnica is located on the university campus at Yliopistonranta 5. Ylioppilastalo is home to VYY's service office and staff and board's workspaces. A festive Wärtsilä Hall or sauna can be rented from the student house at the membership price: Wärtsilä Hall: Mon-Thu -50% and Sauna: Mon-Wed -15%.
 
BENEFITS OF MEMBERSHIP AND STUDENT STATUS
What is FSHS and how does it benefit me? 
The Student Health Care Foundation (FSHS) is a foundation that provides health care services to students in higher education. FSHS's services include e.g. general health, oral health, and mental health services. At FSHS, you can book a time for a nurse, general practitioner, and oral hygienist. The health care fee for students in higher education which is paid to Kela covers all FSHS services for students, and the fee is paid twice a year. FSHS has offices all over Finland that offer higher education, and you can use the services of any office during your studies. More information on services and appointments can be found on the FSHS website.
Where can I find VYY's membership benefits?
All benefits can be found on Pivo, and information on membership benefits and services can be found on VYY's website.